Organization of a wedding – tips and tricks for organizing the most long-awaited holiday in the life of a man and a woman.
Wedding planning can be a wonderful but overwhelming experience. With so many details to consider, it's important to keep your focus on what's truly important. From choosing the right venue and vendors to setting a budget and making a guest list, there are many factors to take into account. To help you stay on track and ensure your special day is everything you've dreamed of, we've compiled a list of key things to keep in mind when planning your wedding.
Importance of creating a guest list
Guest list creation is one of the most crucial and often overlooked steps in wedding planning. Not only does it impact your budget and venue selection, but it also determines the overall atmosphere and dynamic of your big day. It's important to carefully consider who you want to invite and prioritize your must-have guests to ensure a balanced and memorable celebration. In this section, we'll delve into the importance of creating a guest list and provide tips on how to approach this task effectively.
When it comes to creating your wedding guest list, there are a few key things to keep in mind to ensure the process is efficient and stress-free. Here are some tips to help you along the way:
Set a budget: Your budget will play a big role in determining the size of your guest list, so it's important to set a clear budget and stick to it.
Prioritize: Make a list of must-have guests and prioritize them based on your relationship and significance to each individual.
Communicate with your partner: Discuss your guest list with your partner and come to a mutual agreement on who should be invited.
Consider logistics: Consider the logistics of inviting guests, such as travel and accommodations, and adjust your list accordingly.
Be considerate: Avoid hurt feelings by being considerate of family and friends who may have to travel long distances or have other commitments.
Finalize the list: Finalize your guest list several months before the wedding to allow enough time for RSVPs and other details.
By following these tips, you can create a guest list that accurately reflects your priorities and helps ensure your wedding day is a memorable celebration with the people you love most.
Factors to consider when choosing a venue
Choosing the right wedding venue is a crucial part of wedding planning and can have a big impact on the overall success of your big day. When selecting a venue, there are several key factors to consider, including:
Budget: Consider the cost of the venue, including rental fees and any additional expenses such as catering or decorations.
Capacity: Ensure that the venue has enough space to comfortably accommodate all of your guests.
Location: Consider the location of the venue and its proximity to your guests.
Theme: Make sure the venue fits with the overall theme and aesthetic of your wedding.
Availability: Make sure the venue is available on your desired wedding date.
To help ensure you select the right venue, consider these tips:
Start your search early: Give yourself plenty of time to find the perfect venue and secure a date.
Visit multiple venues: Visit several venues to get a better sense of each one and compare options.
Consider the weather: If you're planning an outdoor wedding, consider the likelihood of inclement weather and have a backup plan in place.
Ask questions: Make a list of questions to ask venue representatives to ensure you have all the information you need to make an informed decision.
By taking these factors into account and following these tips, you'll be able to choose a wedding venue that meets all of your needs and helps ensure your big day is a success.
Popular wedding venues
When it comes to choosing a wedding venue, the options can seem endless. Some popular wedding venues include:
Banquet halls: These traditional venues offer large spaces for both the ceremony and reception, making them a popular choice for many couples.
Outdoor locations: Outdoor venues such as gardens, beaches, and parks provide a beautiful natural backdrop for your wedding.
Historic venues: Historical buildings and museums offer a unique and elegant setting for your wedding.
Hotels: Hotels often have a variety of spaces available for weddings, including ballrooms and outdoor terraces.
Wineries: Wineries provide a romantic and picturesque setting for a wine-themed wedding.
Barns: Rustic barns and farmhouses are becoming increasingly popular for their charming and cozy atmosphere.
Country clubs: Country clubs offer a classic and sophisticated setting, complete with well-manicured grounds and elegant dining rooms.
No matter which type of venue you choose, it's important to remember that the most important aspect is finding a space that feels like a perfect fit for you and your partner. By considering the different options and what each venue has to offer, you'll be able to select the perfect location for your special day.
Importance of choosing the right menu and catering
When planning a wedding, catering and menu planning should also be taken into consideration. Here are a few tips to keep in mind:
Consider the guest list and their dietary restrictions/preferences.
Decide on a serving style (e.g. sit-down dinner, buffet, food stations).
Budget for catering, including taxes and gratuity.
Taste test menu options before making a final decision.
Choose a reputable and experienced caterer with good references.
Have a backup plan in case of inclement weather or other unforeseen circumstances.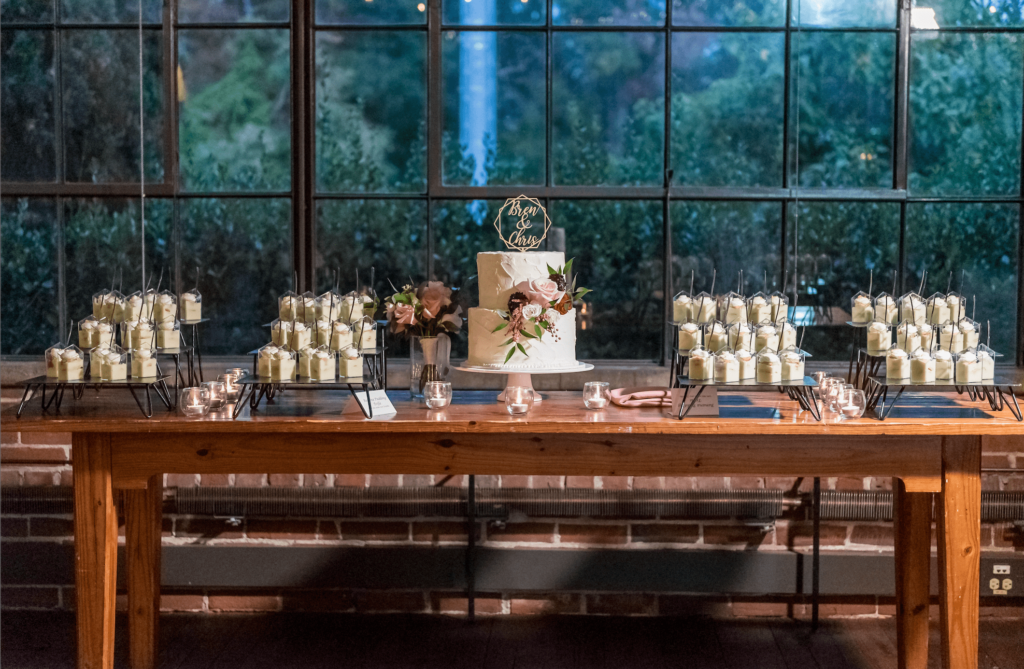 Choosing catering for your wedding can be a big decision. Here are a few steps to help you choose the right caterer:
Determine your budget and desired menu options.
Research caterers in your area and read reviews from past clients.
Schedule tasting appointments with your top choices.
Ask for references and follow up with them.
Check the caterer's experience and specialties to ensure they match your vision.
Review the contract carefully, including details such as service fees and rental equipment.
Make sure the caterer is licensed and insured.
Confirm the caterer's availability for your wedding date.
Tips for staying within budget
When planning a wedding, it's important to stay within your budget. Here are some tips for keeping costs under control:
Prioritize: Make a list of must-haves and nice-to-haves, and allocate your budget accordingly.
Be flexible: Be open to alternative venues, menu options, and other creative solutions that can save you money.
Shop around: Get multiple quotes for each vendor and compare prices to find the best value for your budget.
Negotiate: Don't be afraid to negotiate with vendors on price, services, and other terms.
Get help: Consider hiring a wedding planner or using wedding planning tools and websites to help you stay on track.
Trim guest list: Reducing the number of guests can have a big impact on your budget.
Avoid peak season: Wedding costs tend to be higher during peak season, so consider getting married off-season.
By keeping these tips in mind, you can have a beautiful wedding without breaking the bank.
Wedding Decor: Ideas for a Beautiful Celebration
Wedding decor plays a big role in creating the ambiance for your big day. Whether you're going for a romantic, classic, or modern feel, there are many options to choose from. Here are some ideas to help you create a beautiful wedding decor:
Incorporate flowers: Fresh flowers can add a touch of nature to your venue. Consider incorporating them into your centerpieces, bouquets, and other decor elements.
Use lighting: Strategic lighting can transform a space and create a mood. Consider using fairy lights, lanterns, and candlelight to create a warm and intimate atmosphere.
Choose a color scheme: A consistent color palette can bring a cohesive look to your decor. Consider incorporating your chosen colors into your floral arrangements, linens, and other decor elements.
Personalize your space: Incorporate personal touches, such as photos or mementos, to make your wedding decor unique to you and your partner.
Create focal points: Draw the eye to specific areas of the room with statement pieces, such as a large floral arrangement or a custom-made photo wall.
By considering these ideas, you can create a beautiful and memorable wedding decor that truly represents your style and personalities as a couple.
The importance of a cohesive theme
When planning a wedding, it is crucial to have a cohesive theme that ties all elements of the celebration together. A well-defined theme not only creates a visually appealing atmosphere, but also helps to set the tone and mood for the entire event. Whether you opt for a classic, romantic, or modern theme, it should be reflected in all aspects of the wedding, from the invitation design to the floral arrangements and table settings.
Having a cohesive theme also makes it easier to make decisions about the details of the wedding. For example, choosing a color palette that complements the theme can guide you in selecting the bridesmaid dresses, groomsmen attire, and decor. A consistent theme also helps to ensure that the wedding has a professional, polished look and feel.
In conclusion, having a cohesive theme is an important aspect of wedding planning that should not be overlooked. By incorporating a consistent theme into all elements of the celebration, you can create a memorable, stylish, and well-coordinated event that reflects your personal taste and style.
Choosing the right music and entertainment for the wedding
Music and entertainment can make or break a wedding celebration, so it's important to choose wisely. Here are a few key factors to consider:
Theme: Does the music and entertainment fit the overall theme and style of the wedding?
Guests: What are the musical tastes of your guests? Try to find a balance between what you like and what will get them on the dance floor.
Budget: How much can you afford to spend on music and entertainment? Consider hiring a DJ or live band, booking a photo booth, or renting equipment for games and activities.
Logistics: What equipment do you need to accommodate the entertainment and how will it be set up? Make sure to factor in the location, space, and timing of the events.
Remember to communicate your expectations and preferences clearly with your chosen entertainment providers. Take time to review their portfolios and check references before making a final decision. With careful consideration and planning, you can ensure that your wedding music and entertainment will be a hit with everyone.
Most Popular Wedding Tracks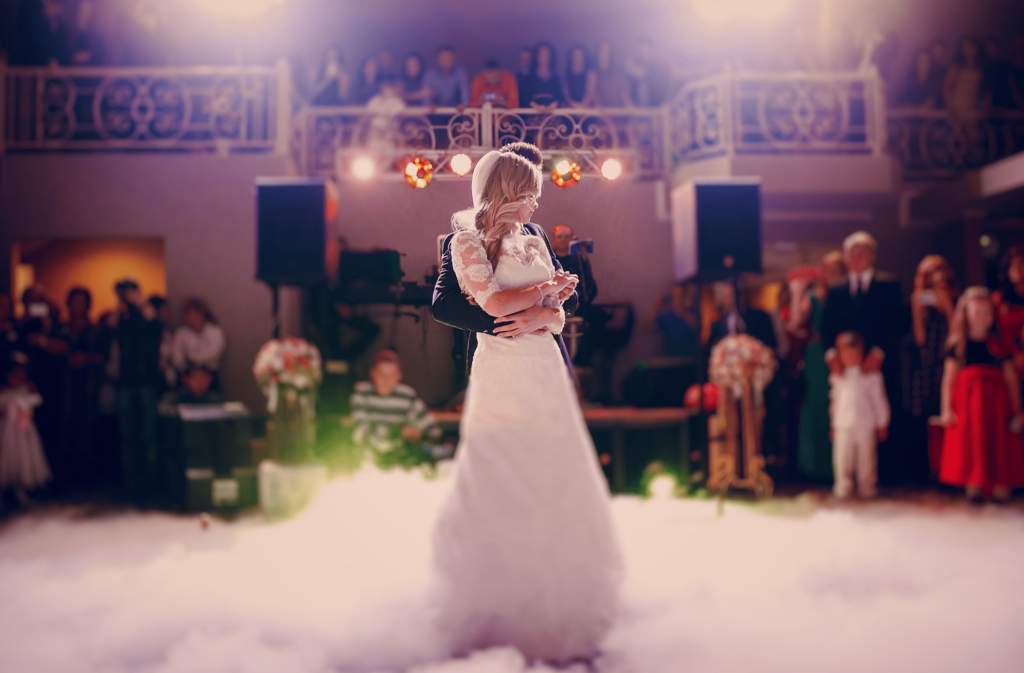 Music is an integral part of any wedding celebration, and choosing the right songs can set the tone and create an unforgettable experience. Here is a list of some of the most popular wedding songs to consider:
"A Thousand Years" by Christina Perri
"Can't Help Falling in Love" by Elvis Presley
"First Dance" by Justin Bieber
"Thinking Out Loud" by Ed Sheeran
"You Are the Love of My Life" by Sam Cooke
"I Don't Want to Miss a Thing" by Aerosmith
"You Are the Best Thing" by Ray LaMontagne
For live music performances, consider hiring a wedding band or solo musician. They can personalize the music selection to fit your preferences and the style of your wedding. If you are hiring a DJ, make sure to provide a list of must-play songs and any specific requests you have. With a combination of popular hits and meaningful personal touches, you can create a soundtrack that reflects your love story and makes your wedding day unforgettable.
Importance of capturing memories of the special day
Wedding photography and videography capture the memories of your special day and allow you to relive the emotions and moments for years to come. Here are a few reasons why professional photography and videography are worth considering:
Quality: Professional photographers and videographers have the skills and equipment necessary to produce high-quality images and videos.
Storytelling: A good photographer or videographer will not only capture the key moments, but also tell the story of your day through their images and videos.
Lasting Memories: With photos and videos, you will have a permanent record of your wedding day that you can share with family and friends, and look back on in the future.
Documentary: Photography and videography can provide a document of your wedding that can be used to recall important details and moments.
When choosing a photographer or videographer, consider their style, portfolio, and reviews. Set aside a realistic budget for this service, and discuss your expectations and requirements in advance. With professional photography and videography, you can ensure that your wedding memories will be captured in the best possible way.
Create a Wishlist for your guests
Creating a gift wishlist for newlyweds is an important aspect of wedding planning that often gets overlooked. A gift wishlist helps guests understand the couple's preferences and ensures that they receive gifts that they truly love and can use. Here are some benefits of having a gift wishlist for your wedding guests:
Avoids Duplication: A gift wishlist eliminates the risk of guests buying duplicate gifts, saving them time and money.
Saves Time: Guests don't have to spend time and effort searching for the perfect gift, as the couple's preferences are clearly stated on the wishlist.
Increases Satisfaction: When guests give a gift that is on the couple's wishlist, they can be confident that it will be appreciated and used, leading to increased satisfaction for both the giver and the receiver.
Helps with Budgeting: A gift wishlist can also help guests stick to a budget, as they can choose a gift that fits their budget from the options provided.
It is important to choose a good way to create a wish list. These can be various online services, for example, mobile applications.
Wishlist Listery mobile app allows you to create a convenient list of wedding gifts and send it to all your guests.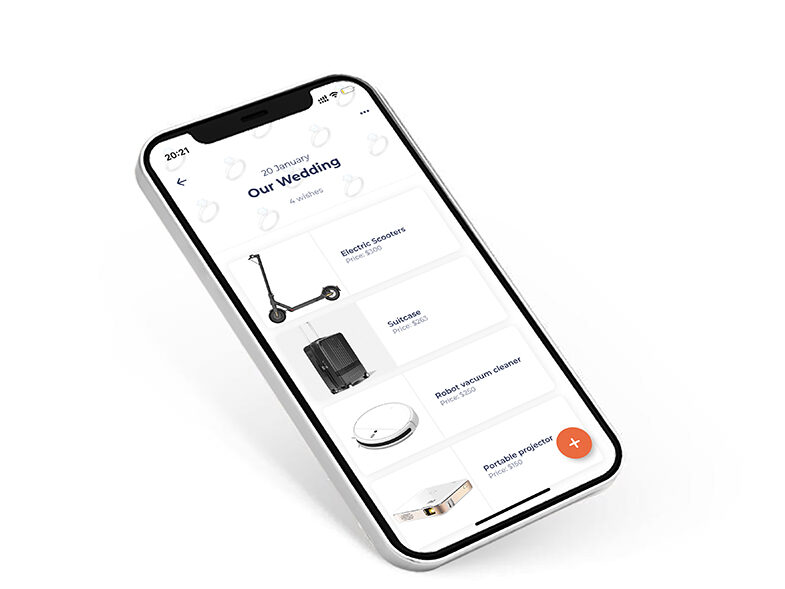 Listery App is available for free download on the app store and play market. Just create a new event "Our wedding", add everything you want there and send it to the guests. Friends don't have to download the app to view your list.
Let's recap
Wedding planning can be overwhelming, but it's important to remember to prioritize the most important aspects of your big day and to enjoy the process. Here are some tips to help you stay focused and have fun while planning your wedding:
Set priorities: Determine what is most important to you and your partner and make sure those elements are at the top of your to-do list.
Delegate tasks: Share the workload with your partner, family, and friends. This can help you feel less stressed and more in control.
Take breaks: Wedding planning can be all-consuming, so it's important to take breaks and focus on other aspects of your life. This can help you recharge and return to planning with renewed energy.
Focus on the big picture: It's easy to get caught up in the details, but remember the reason behind it all – celebrating your love and commitment to each other. Keep this in mind and let it guide your planning process.
Enjoy the process: Planning a wedding can be stressful